---
CLIENT
ConEdison
AGENCY
Wunderman Thompson
TEAM
Amanda Cuello (UX Manager)
Rex Guo (Product Designer)
Ronald Meneses (UX Designer)
Diego Vera (Technology Lead)
Josue Suarez (Software Developer)
MY ROLE
Product (UX/UI) Designer

TIMELINE
3 months,
Q3 2022
---
Redesign Project Center for new energy service experience.
We redesigned and replatformed the Con Edison Project Center
to create an easy-to-use digital experience for customers seeking to remodel buildings that involve electrical or gas construction. This new platform allows customers to track progress efficiently and manage key infrastructure requirements effectively.
Energy Services
Project Center
I collaborated with a team of UX designers and Engineers to help redesign a holistic journey for the ConEdison Project Center experience for consumers. To help bring this to life, I led the user interface design and design system. I also designed wireframes and joined the research process.
---
The Problem
Our motivation came from the user surveys,



have difficulties using the Project Center website

---
How might we improve user convenience
and understanding of the entire case process
on the Project Center web and apps?
---
Quantitative Reserach
Survey
Qualitative Reserach
User Interviews
A total of 346 people who interacted with the Project Center website responded to our survey. Survey respondents reported various forms of discomfort and reasons why they visited the project center website.
Also, we conducted 10 user interviews. Participants were chosen based on their responses to the screening survey. Notes from the interviews helped to find key opportunities.

Q. Why you visit Project Center Website?
To track the progress or manage a project
Q. What Con Edison Could Do to Improve Project Center Website Experience?
Pain points
& Opportunities
User interface is confusing, outdated, and not intuitive for users.





Users are overwhelmed by lots of questions that are not well organized during the case creation process.



Users are most confused about the vague and unclear process, and what needs to happen next for a case.



Lack of communication for inquiries.

---
Wireframe
With two UX designers and a product designer, we redesigned the user experience of the ConEdison Project Center website. We regularly had meetings with client and developers to get some feedback.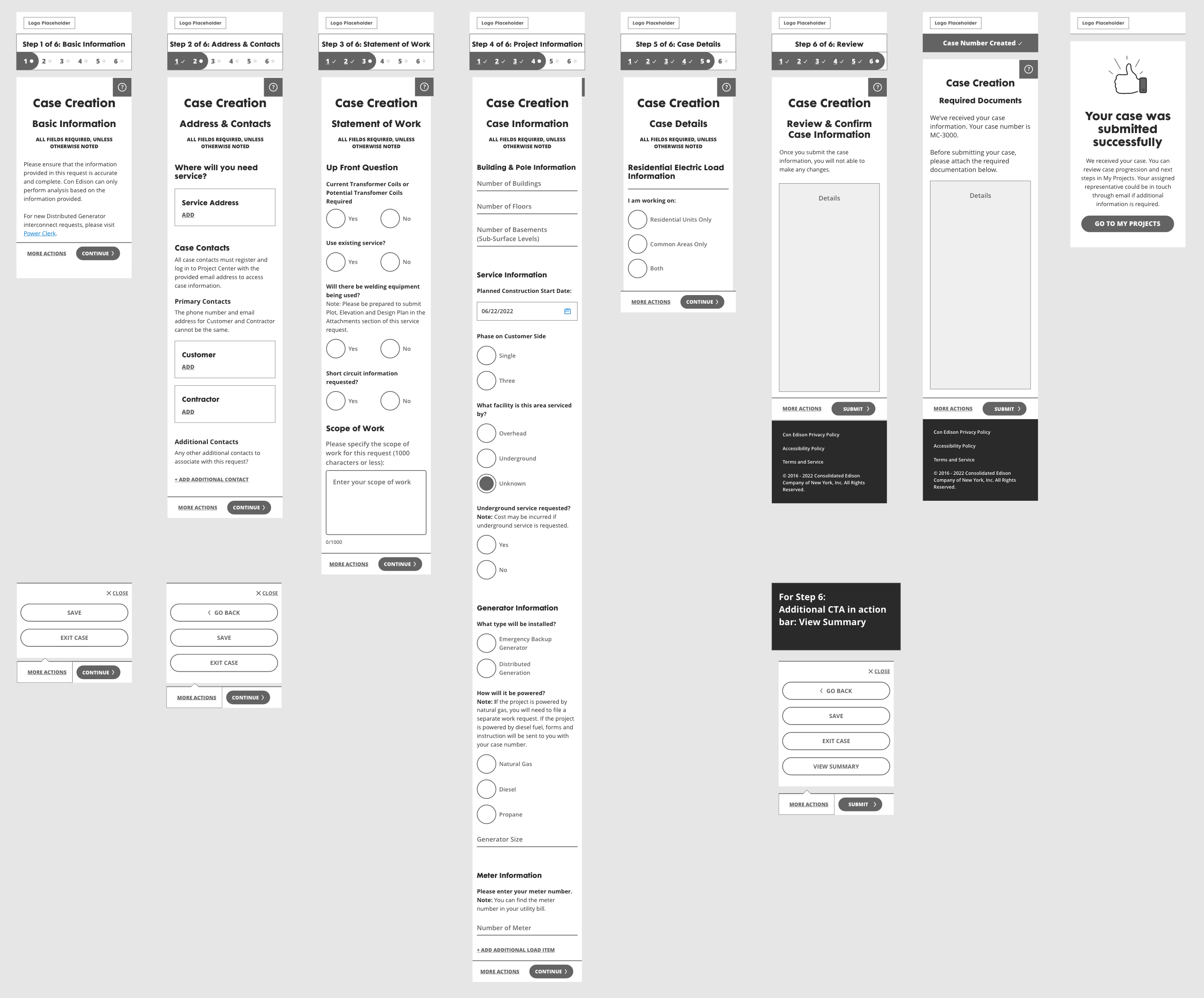 ---
Responsive Design


Set the consistent grid and spacing before starting UI updates for all stages. Each page is designed for different sizes of screens to ensure a great browsing experience across various devices.
Start Design • Start Design • Start Design • Start Deign • Start Design • Start Design •
Built New Design System


Creating a clear and
unifying design language
I collaborated with the UI designer to create a comprehensive design system for the ConEdison Project Center to simplify the UI and reduce user confusion. We designed cohesive components like buttons and icons, and established a clear and consistent visual language.
Also, I created a design system library of reusable components to ensure brand consistency and a strategic design system.
---
Divided & Concise Process


Enhanced Case Creation
User Flow
To address overwhelming user experiences during case creation, we clearly understood the case creation user flow, reorganized sections, divided questions into steps, and added a bar stepper for customers to track their progress .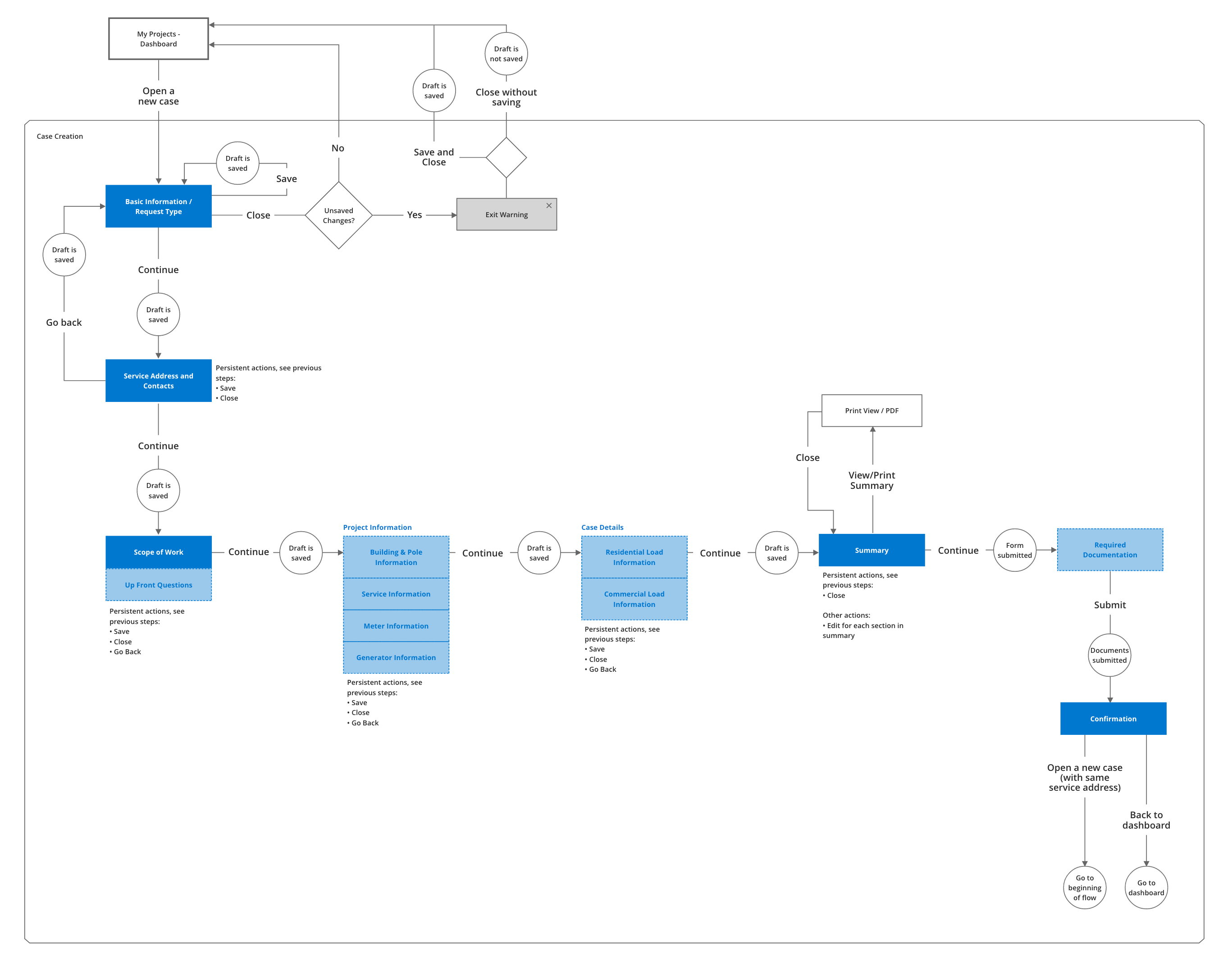 ---
Define States & User-friendly Instructions


Provide progress clarity on projects
To optimize customers' demand for real-time updates on their project steps in a case, we developed a new system. We enhanced the information architecture and UI to display all key steps in a case with clear instructions, messages, colors, and icons, which allow users to understand their current situation and take appropriate action.
---
Timely Communicate with Live Chat


Build out live chat
for faster response time
We added a live chat and means to contact project representatives reducing 24-48 hour wait times and enabling prompt document confirmation and answers to improve efficiency.
---
RESULTS
We designed clear and purposeful pages for desktop, tablet, and mobile after many reviews and iterations. Client confidently expects to enhance the overall user experience of the Project Center with the unified design language, concise case creation process, progress clarity, live chat, and FAQs. This New Project Center is still in the design process, so it has yet to be put to practical use.
---
LESSONS LEARNED
🤝 Efforts to continuously improve design quality
Enhanced the UI and design system for the Project center by collaborating with the design team and continually improving design quality with pixel-perfect design through design reviews and feedback requests.

👍 Executing Design with a Developer Perspective
Communicated actively with the developers to make our design into code.

💪 Go Go, Team!
Important of maintain teamwork with good communication to enhance the team's upbeat atmosphere and balance deadlines.